One of the hallmarks of our firm is our complementary and confidential GAP Diagnostic Analysis™. A business owner will know more about their business after our report is completed, delivered and explained than they know before meeting us. We contribute 8-10 hours of our own time.
We do the following during our GAP Diagnostic Analysis™, which usually takes about 45 minutes of the owner's time and 3-4 hours of the company's staff time.
1.  Ask the owner, "What are your thoughts about the ideal sale or transfer of your company?"
2. Interview the person in charge of finance and accounting using our seven-page interview checklist.
3. Look at the company's financial information and computer systems.
4. Benchmark the company's financial information against industry averages using our KPI (Key Performance Indicator) software.
5. Create the GAP Diagnostic Report.
6. Create a confidential report on our findings to discuss with the owner.
Our GAP Diagnostic Report uses the company's NAICS code and sales volume to confidentially compare to other companies in the same industry. This report, usually 12-15 pages in length, has key information, such as the following real-life example: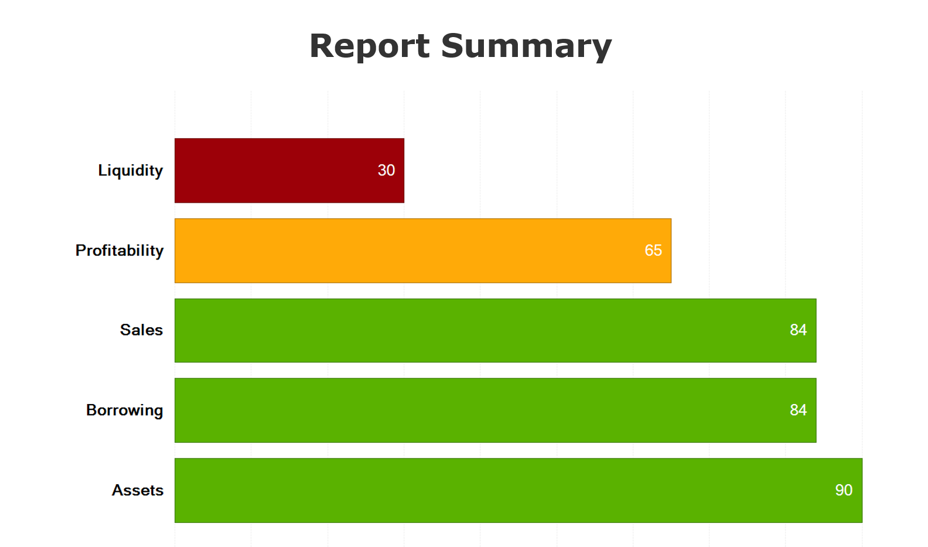 We can see from this report summary that the company is doing well in sales, borrowing and assets. There is a caution on profitability and a red light on liquidity. Our narrative on such a circumstance may read:
"The company's overall liquidity position has improved slightly this period, possibly due in part to the significant increases in both sales and profits. However, the firm's liquidity position is still quite poor. There may POSSIBLY be some difficulties paying the bills over the long term in this condition.
"It is also concerning that the significant increase in profits did not help in the area where the most progress is needed — in the cash and near-cash accounts. Basically, there is not an adequate amount of these assets relative to short-term obligations. There simply is not enough money invested in the company to sustain liquidity over the long run.
"It should be noted as well that the firm's liquidity position is even poor relative to other similar companies, which is a critical observation. Keep in mind that these assessments are based upon a review of the company's data AND the data of other similar firms in the industry."
We would then give some possible specific recommendations to help the company with this situation. Our advice is complimentary and there are no strings attached to our firm by the owner.

We will also share the KPIs (Key Performance Indicators) that bankers, broker-dealers and prospective buyers will eventually use regarding your company. The adage, "Knowledge is power," will apply to the owner as the company is navigated by future decisions.
Get your complimentary GAP Diagnostic Analysis™